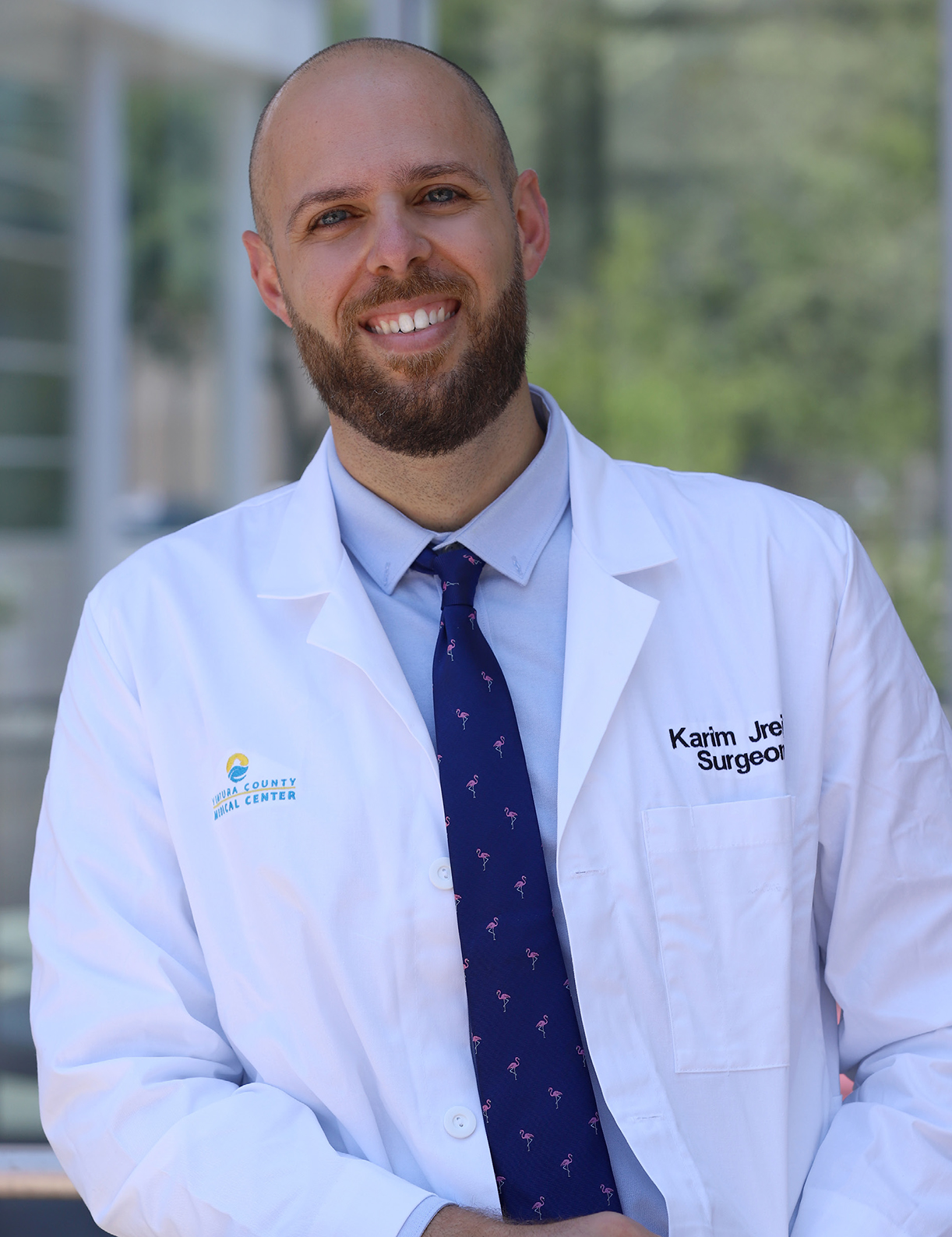 DR. Karim Jreije
General Surgery
Medical Licensure & Board Certification
State of California Medical License
Certified by the American College of Surgeons.
Candidate Member American Society of Colorectal Surgeons.
His certifications include Advanced Life Trauma Support (ATLS), Basic Life Saving (BLS), Advanced Surgical Skills for Exposure in Trauma (ASSET) and technical skills and knowledge in Laproscopic Surgery (FLS), as well as SAGES fundamentals of Endoscopic Surgery (FES).
History
Dr. Jreije also holds a degree in Neuroscience, is a doctor of Osteopathic Medicine and earned the General Surgery Resident of the Year award from Community Memorial Hospital and VCMC. And yes – Karim was also a Surgical Jeopardy Champion with the Southern California American College of Surgeons.
Karim is a part of many past and ongoing research projects as well as a presenter at many conferences and events nationwide. A recent presentation titled Comparing Colorectal Outcomes between a Protocol and an Individual Surgeon Driven Hospital was presented at the American Society of Colorectal Surgeons Conference in 2020.
Some of his recent publications as a contributor include:
One Hole, Two Tubes, and a Tijuana Pathology Report– A Case Report of Cholecystoduodenal Fistula Mistaken for Gallbladder Cancer, and Case report–recurrent mucoepidermoid carcinoma of the tongue in adult female patient with lung cancer, both published in 2020.
Karim also teaches the Stop the Bleed program, as featured in this magazine on page 21. Founded at VCMC by Dr. Duncan, Co-Director of VCMC Trauma and a member of the ACS, Trauma Surgery Committee, and joined by Trauma Co-Director, Dr. Romero, the Stop The Bleed team train various community groups and cohorts to be an extension of trauma teams in the field. Participants learn how to quickly identify life threatening hemorrhage, and how to stop or control it, until professional medical assistance is secured.
Karim also speaks conversational Arabic, has a passion for outdoor photography, loves to edit surgical videos and enjoys playing basketball and rugby. As a matter of fact, he actually holds the emeritus title of Rookie of the Year from the UC Irvine Rugby team!